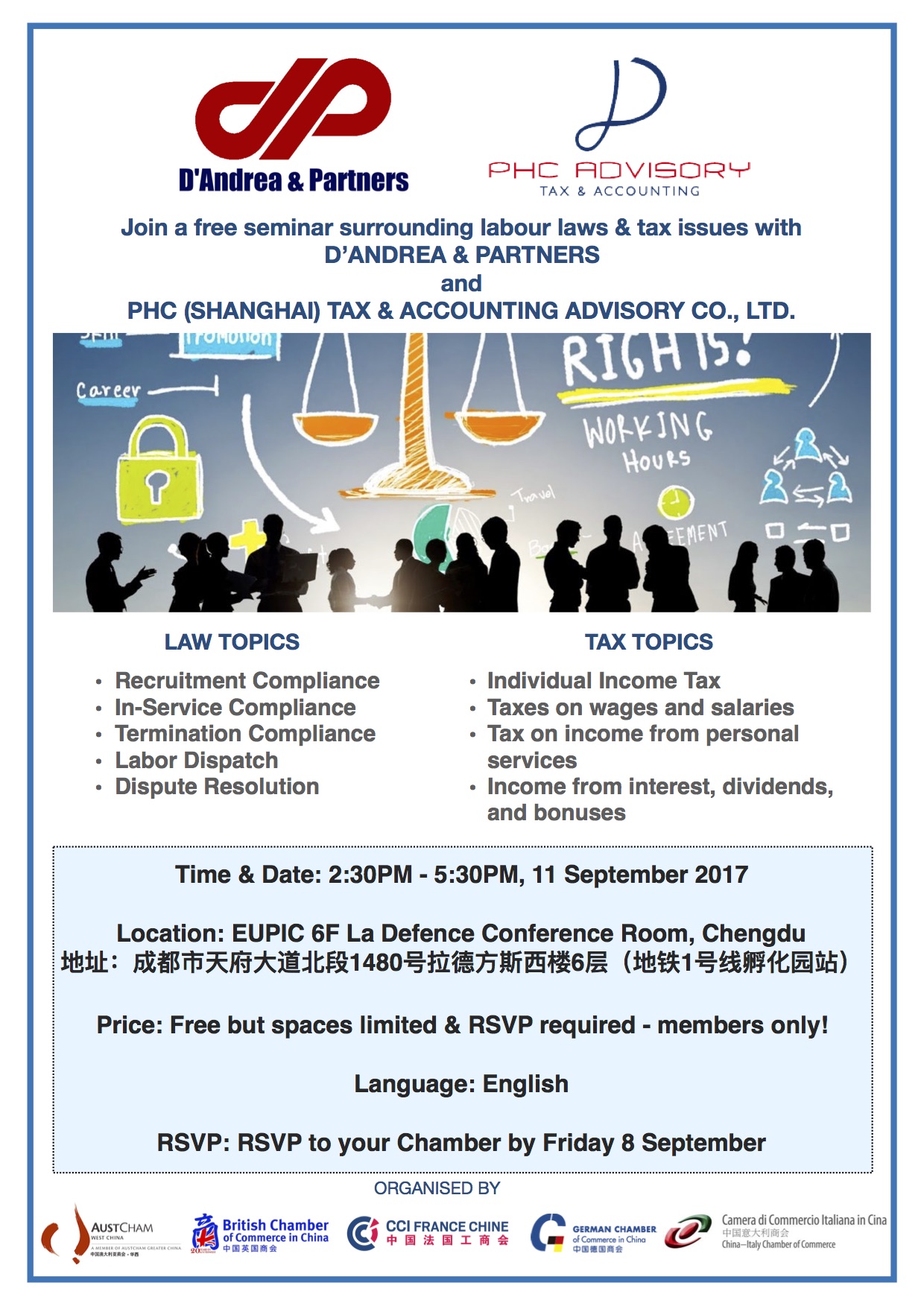 We welcome our members to join a free seminar surrounding labour laws & tax issues with D'Andrea & Partners and PHC (SHANGHAI) Tax & Accounting Advisory Co., Ltd.
This seminar is being organised and hosted jointly by AustCham West China with our friends at the British, French, German and Italians Chambers of Commerce.
Law Topics:
Recruitment Compliance
In-Service Compliance
Termination Compliance
Labor Dispatch
Dispute Resolution
Tax Topics:
Individual Income Tax
Taxes on wages and salaries
Tax on income from personal services
Income from interest, dividends, and bonuses
Time & Date: 2:30PM – 5:30PM, 11 September 2017
Location: EUPIC 6F La Defence Conference Room, Chengdu
地址:成都市天府大道北段1480号拉德方斯西楼6层(地铁1号线孵化园站)
Price: Free but spaces limited & RSVP required – members only!
Language: English
RSVP: Email michael.feakes@austcham.org with your name, company and phone number by close of business Friday 8 September (for AustCham West China members)
Speaker Bio
Mr. Matteo Zhi – Senior Partner of D'Andrea & Partners
Mr. Zhi advises European and Chinese clients on various legal matters and business transactions in China and cross-border. His special focus areas are: foreign direct investment FDI, mergers & acquisitions, corporate restructuring, IPO and re-financing, commercial, real estate, construction, labor as well as dispute resolution.
Mr. Zhi also provides advices to the clients on outbound investment and immigration in Italy and Europe.
Mr. Zhi graduated in law from the University of Nanjing (China), and then awarded Master's Degree on Corporate Advisor (Giurista d'impresa) at Roma Tre University and Juris Master at the Shanghai Jiao Tong University Koguan Law School.
Mr. Zhi is now Senior Partner of D'Andrea & Partners, International Boutique law and consulting firm and he can also count on a long experience within a leading Italian law firm in China with portfolio composed of both Chinese and International clients from 2010 to July 2013. Mr. Zhi has served in public office for a few years therefore could assist the client in handling relationship with the governmental offices.
Mr. Zhi is registered in Shanghai Bar Association as qualified PRC Lawyer and has made speeches with topics regarding the investments in Italy on different seminars as well as published several articles regarding Sino-Italian legal affairs.
Mr. Arduino Agostinelli – Deputy General Manager of PHC Advisory
Mr. Agostinelli advises clients on Tax and Accounting matters and works on Financial Due Diligence projects, Business Plans, Internal Audit projects.
His main focus areas are: Fiscal Position Analysis related to foreign employees; Tax aspects related to an individual who is domiciled in PRC (Individual Income Tax).
Mr. Agostinelli graduated in Business and Management and then awarded Master's Degree on Financial Business at LUISS Guido Carli University in Rome (Italy).
Before PHC Advisory in Shanghai, Mr. Agostinelli was Auditor at Deloitte in Rome.