Chongqing Event | FTZ Workshop Series Launch Ceremony & Information Session
24-01-18 @ 9:00 am

-

5:00 pm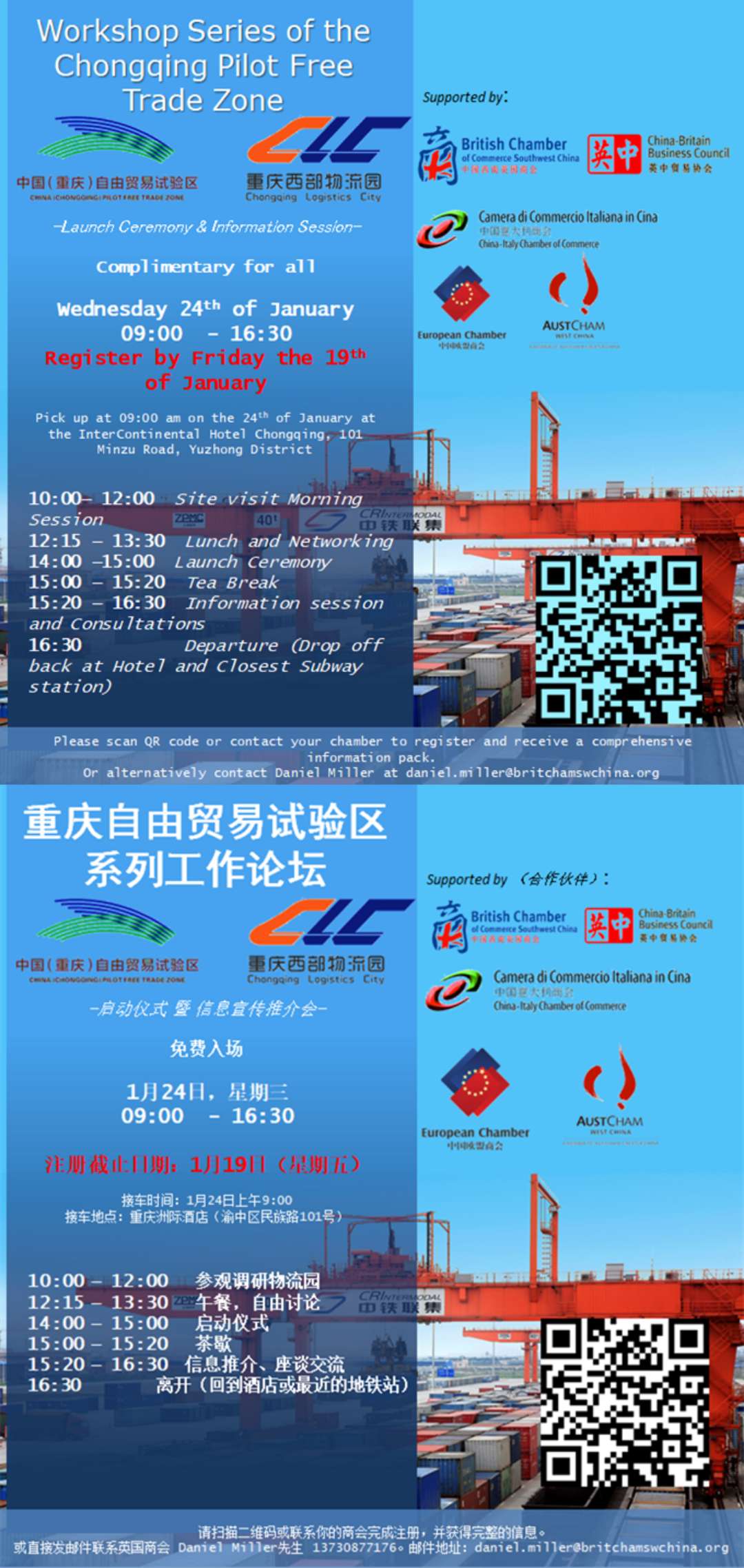 This series of workshops aims to bring together foreign businesses in the Southwest, the Chinese business community and policy makers to facilitate closer connections and more regular exchanges. The workshop will try to foster a better business environment in the Southwest China region, especially considering the newly set-up Free Trade Zones (FTZs). Each sides will decide on subjects together, focusing on system innovation, the legal environment and enterprise services to explore the potential of the pilot free trade zone.
The Introduction and Lunching Ceremony
This section aims to aid Foreign businesses in their understanding of the business environment and potential market access issues in China. This section will also seek to assist Chinese policy makers and regulators in identifying and prioritizing policy and regulatory issues that benefit/hinder foreign businesses looking to enter the Chongqing market. 
9:00         Pick up
Pick up the guests at the Chongqing Intercontinental Hotel 
10:00 – 10:30  Meet
10:30 – 12:00  Site Visit
Visit the China (Chongqing) Pilot Free Trade Zone Chongqing Logistics Park.
12:15 – 13:30  Lunch & Free Talk
14:00 – 14:20  Meeting Open
The China (Chongqing) Pilot Free Trade Zone Shapingba District Office & The British Chamber of Commerce in China declare the workshop open and introduce the workshop plan.
14:20 – 14:40  Introduction
Representatives form the The China (Chongqing) Pilot Free Trade Zone Chongqing Municipal Office introduce the China (Chongqing) Pilot Free Trade Zone.
14:40 – 15:00  Introduction
The participating Chambers and relevant representatives from Government gives speeches regarding their foreign enterprises in Southwest China. 
15:00 – 15:20  Tea Break
15:20 – 16:30  Interactive Session
16:30         Depart
Contact michael.feakes@austcham.org to register for this event, or alternatively please scan the QR code in the poster above.
Please register before Friday 19 January 2018.