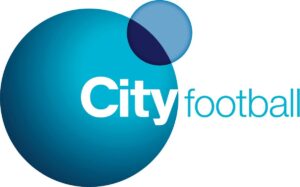 City Football Group (CFG) is the owner of a number of football related businesses with global relevance. These include high profile professional football clubs, academies, technical support and marketing companies. CFG's majority-owned clubs include Premier League Manchester City FC, Melbourne City FC of the A-League and MLS Franchise New York City Football Club.
CFG's other club investments comprise Yokohama F. Marinos of the J-League, Montevideo City Torque in the Uruguayan league, FC Girona from the Spanish league, Sichuan Jiuniu FC from the China League One, Mumbai City FC in India, Lommel SK in the Belgian Second Division,and most recently, ESTAC from the French league became the latest addtion. The common aim across all clubs is to provide the best possible experience and an unmatched opportunity for fans and communities to participate in, and benefit from football at both a local and global level. The Group's support companies – Global Football and City Football Marketing – operate from a number of offices around the world in support of the Group's clubs, associate organisations and customer organisations. Global Football shares footballing IP and "know-how" to recruit, develop, train and win. City Football Marketing creates media, marketing and fan engagement properties to support the commercial development of clubs and their partners.
City Football Group is majority owned by Abu Dhabi United Group (ADUG). ADUG is an investment and development company privately owned by His Highness Sheikh Mansour bin Zayed Al Nahyan. In December 2015, ADUG divested a 13% shareholding to a China Media Capital-led consortium, creating an unprecedented platform for the growth of CFG clubs and companies in China and internationally. City Football Group's headquarters are in Manchester and it has offices in Abu Dhabi, Girona, London, New York, Melbourne, Montevideo, Shanghai, Shenzhen, Chengdu, Singapore and Tokyo.
成立于2013年5月,是全球领先的足球俱乐部私人所有者和经营者。城市足球集团在全球拥有众多足球相关业务,包括顶尖的职业足球俱乐部、学院、技术支持和营销公司。集团在全球主要城市拥有9家俱乐部的全部或部分所有权,其中控股的俱乐部包括英国英超曼城足球俱乐部(Manchester City FC)、澳大利亚墨尔本城足球俱乐部(Melbourne City FC)和美国纽约城足球俱乐部(New York City Football Club)。
城市足球集团参与投资的其他俱乐部包括:日本横滨水手足球俱乐部、乌拉圭蒙得维的亚城托奎足球俱乐部、西班牙赫罗纳足球俱乐部、中国四川九牛俱乐部、印度的孟买城足球俱乐部、比利时的洛默尔足球俱乐部以及法国的特鲁瓦足球俱乐部。集团旗下的俱乐部有一个共同目标,为球迷和社区尽可能地提供最好的体验和无与伦比的机会,让他们能够参与地方及全球各层面的足球活动并从中受益。城市足球集团在全球设有13个办事机构,并且投资其他与足球相关的业务和项目,为合作伙伴提供全球性的商业平台,同时通过俱乐部慈善事业、基金会和其他企业社会责任活动,在地区和全球范围内实现足球为社会公益服务的美好愿景。
城市足球集团是谢赫·曼苏尔王子殿下私人持有的阿布扎比财团(ADUG)旗下的全资子公司,持有城市足球集团大约77%的股份。另外,华人文化集团公司持股约12%,银湖资本持股约10%。城市足球集团总部设立于英国曼彻斯特,在阿布扎比、赫罗纳、伦敦、纽约、墨尔本、蒙得维的亚、上海、深圳、成都、新加坡、东京和孟买均设有办事处。