Companies selling genuine Australian products with necessary importation or license documents ready for check are invited to exhibit at the Australian Products Market as part of the Fourth Sichuan International Tourism Fair in Leshan City 15-18 September.
第四届四川国际旅游交易博览会
主宾国"澳大利亚风情周"
方案
四川·乐山
二〇一七年七月
四川省乐山市拟于2017年9月15日-2017年9月18日举办第四届四川国际旅游交易博览会主宾国"澳大利亚风情周"。
一、主要内容
(一)主题
澳大利亚风情周
(二)时间
2017年9月15日-2017年9月18日
(三)地点
国际旅博会乐山分会场嘉定坊
(四)组织机构
1.指导单位: 乐山市旅游和体育发展委员会
             乐山市投促外侨局
2.承办单位:乐山广播电视台
3.拟参会嘉宾:澳大利亚驻成都总领事及相关人员(及其他拟参会澳大利亚政府高级官员)、市领导及相关部门人员
(五)规模与区域布局
本次活动以澳大利亚特色商品展为主,采取室外集中展销的方式,展销区域(含舞台区域)约800平方米
(六)具体内容
此次活动主要设置:风情周开幕式、特色商品展示展销、澳大利亚文化表演及参观活动(乐山大佛)
二、相关优惠条款
1. 免费提供场地、展位。我方免费提供活动场地及
3m*3m标准展位,免费内容包含统一设计制作的展位装璜、桌椅等布置、电源与照明设施,产品存储服务,安保服务、以及周围街区和活动现场氛围营造包装;
2. 在商品展期间举办澳大利亚文化表演活动(澳大利亚驻成都总领事馆负责组织);
3.免费媒体宣传及对重点商家产品推广;
4.参与活动商家在指定周边酒店住宿享受折扣优惠;展场附近商务酒店均价约100-200元/天。展场周边也有便捷餐饮场所。
三、活动优势
1.活动期间属于乐山旅游旺季,每天人流量将达到3万人次;
2.根据以往类似活动估计销售额每日为约15万左右;
四、嘉定坊简介
嘉定坊位于乐山大佛景区外,总投资约1亿元人民币,总占地面积94453平方米。古街全长500余米,内设有茶坊、酒楼、酒吧、戏台等娱乐和商业场所,集旅游购物、休闲娱乐、风味小吃和工艺品、土特产展销为一体。力求在深厚的民俗文化根基上,营造出"古嘉州"的历史文化风韵。按照功能不同,嘉定坊分为ABC三个功能区。A区"嘉定古坊",B区"青衣里",C区"望月堂"。文化街区内丰富多彩的娱乐和经营项目,将增加游客在峨眉山—乐山大佛景区的停留时间约3—4小时,进而促进乐山旅游要素的完善和提升,促进旅游综合经营收入持续增长。嘉定坊的建成,还将展示和弘扬乐山深厚的历史文化内涵,提升峨眉山—乐山大佛景区及乐山的旅游城市形象。
注:具体解释权归承办方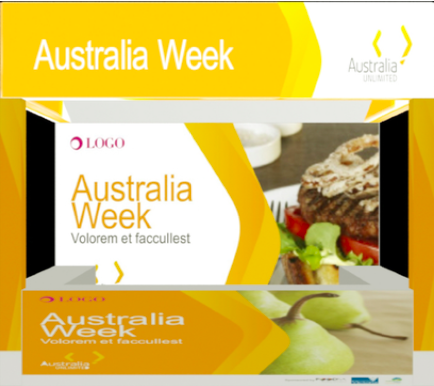 (单个展位效果图)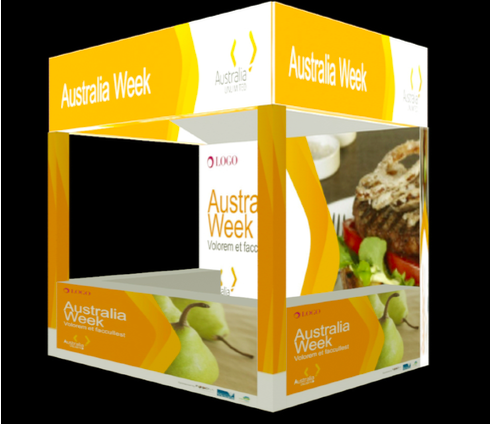 (展位全景图)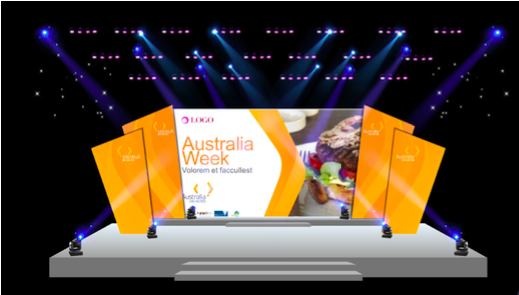 (澳大利亚风情周舞美背景效果图)
联系人:缪加 先生
电话:0833-5308666    13550571555
微信号:miaojia13550571555
QQ号码:1764342779
QQ邮箱:1764342779@qq.com
The Fourth Sichuan International Tourism Fair
"The Week of Australia"
Proposal
Leshan· Sichuan
The Fourth Sichuan International Tourism Fair is planned to be held in Leshan City, Sichuan province, on September 15, 2017 to September 18, 2017
I .Main event
( i )Theme
Australian Style Week
( ii ) Date
15 September 2017 – 18 September 2017
( iii ) Location
Leshan City, Jiading Fang Street
( iiii ) Organiser
1. Supervisor:
The developing of tourism and sports Committee of Leshan city
2. Contractors: Radio-Television Station of Leshan
3. Opening Ceremony Guests: the Australian Consul-General of Chengdu and associated personnel (other possible Australian government VVIPs), Leshan municipal leaders and relevant departments' personnel.
( 5 ) Scale and regional layout
This event is based on the Australian characteristic commodity exhibition, taking the mode of outdoor concentrated exhibition, and the exhibition area is about 800 square meters
( 6 ) Specific contents
The main settings of this event: the opening ceremony of the fair, the display and sales of featured goods, Australian cultural performances and tour of Leshan Grand Buddha
Ii. The preferential policy
1. Free material and service: booth space, 3m * 3m standard booth (unified design), booth construction and decoration, electricity and lighting, products storage, security services and decoration of the surrounding area.
2. Conduct of Australian cultural performance during the commodities fair (organised by Australian Consulate General Chengdu);
3. Free media promotion and the promotion of key Australian products;
4. The discount on the designated hotel for the members of the fair; average rate for nearby business hotels varies from RMB100-200/day. Food services outlets are also close to the venue.
Iii. Advantages of this activity
1. During the period of the activity, it will be the peak period of Leshan tourist season, the daily traffic will reach 30 000 people.
2. Estimated sales of approximately RMB150,000 per day based on experience of past activities;
Iv. Introduction to Jiading Fang
Jiading Fang is located outside Giant Buddha, with a total investment of about RMB 100 million, covering an area of 94453 square meters. The ancient street is more than 500 meters long, with tea, restaurants, bars, stages and other entertainment and commercial venues, set tourism shopping, leisure entertainment, flavour snacks and handicrafts, local products exhibition as one. On the basis of profound folk culture, the author tries to create the historical and cultural charm of " ancient Jiazhou ". According to different functions, Jiading Fang is divided into ABC three functional areas. A district " Jiading ancient square ", area b" tsing yi ", c area " moon hall ". The colourful entertainment and business projects in the cultural street will increase the stay time of tourists in Emei mountain – giant Buddha for about 3 – 4 hours, and then promote the improvement and promotion of tourism elements in Leshan, and promote the sustained growth of tourism integrated operating income. The construction of Jiading Fang will also show and carry forward the profound historical and cultural connotation of Leshan, and promote the image of tourism city of Emei mountain – giant Buddha and Leshan.
Note: Specific interpretation right belongs to the organiser.
Contact: Mr. Miao Jia (Chinese speaking only)
Tel: 833-5308666   13550571555
WeChat: miaojia13550571555
QQ: 1764342779
E-mail:1764342779@qq.com
乐山广播电视台大型活动部
Below: Photos from last year's event where Thailand was the country of honour